07.02.2023
Inward Outward Symposium 2023 – Registration Open (Sold Out)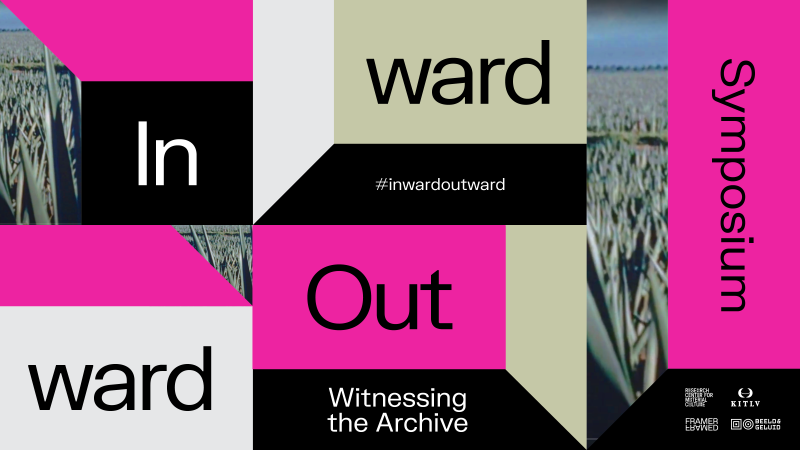 We're pleased to announce that registration for Inward Outward is now open!
The symposium Inward Outward investigates the status of moving image and sound archives as they intertwine with questions of coloniality, identity and race. Here, the archive is understood as resting in both physical structures (e.g. national, regional, local or personal) and less tangible 'cultural archives' (e.g. beliefs, knowledge, collective memories). Through the symposium, we bring theory and practise into dialogue by drawing together people from different professional and creative backgrounds.
The third Inward Outward takes place March 16 & 17, 2023 at Framer Framed (Amsterdam) as a series of three lecture/conversation sessions and a workshop. This iteration of the symposium will focus on Witnessing/Care, with these two terms articulated in tandem. We mobilize Witnessing/Care together, as complementary practices, calling to each other as tools to move through the archive, but that may also be wielded in tension. These two words are deployed as verbs to highlight a form of implication, a refusal to conceive of archival work as a passive performance.
THURSDAY MARCH 16
WITNESSING | 10:00–13:00 CET
Speakers: Yvonne Ng (WITNESS), Amade M'Charek (University of Amsterdam), Daniela Agostinho (Aarhus University)
Speakers: Athambile Masola (University of Cape Town), Nikolaus Perneczky (Queen Mary University of London) Bonaventure Soh Bejeng Ndikung, (Haus der Kulturen der Welt – HKW)
FRIDAY MARCH 17
WORKSHOP (Closed) | 10:00–13:00 CET
Facilitated by: Carine Zaayman (Research Center for Material Culture/Nationaal Museum van Wereldculturen) & Stevie Nolten (Sound & Vision)
MOVING BEYOND REPAIR | 15:00–18:00 CET
Speakers: Noor Abuarafeh (Artist), Sites of Memory (Jennifer Tosch, Katy Streek & Performance Collective of Sites of Memory), Aylin Kuryel (University of Amsterdam)
For the Full Programme, Practical Info & Accessibility visit HERE.
Announcement